Buying a home from Prestige Homes is easy; but understanding how to choose the right mortgage can be a bit tougher! So here are a few basic tips to consider when choosing a mortgage: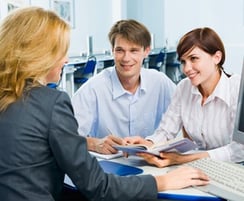 Fixed or Variable Rate Mortgage
With a fixed-rate mortgage, your interest rate won't change so you'll always know exactly how much your payments will be and how much you will have paid on your principal at the end of each term. With a variable-rate mortgage, your rate fluctuates with the bank's prime lending rate each month. Historically, variable-rate mortgages cost less than fixed-rate mortgages when interest rates are fairly stable and, if interest rates drop, more of your payment is applied to the principal which means you'll pay it off even faster!
Short or Long Term Mortgage
The term is the length of the current mortgage agreement. A mortgage typically has a term of six months to 10 years. Usually, the shorter the term, the lower the interest rate. A short-term mortgage is usually for two years or less. A long-term mortgage is generally for three years or more. Short-term mortgages are appropriate for buyers who believe interest rates will drop at renewal time. Long-term mortgages are suitable when current rates are reasonable and borrowers want the security of budgeting for the future. The key to choosing between short and long terms is to feel comfortable with your mortgage payments. After a term expires, the balance of the principal owing on the mortgage can be repaid, or a new mortgage agreement can be established at the then-current interest rates.
Open or Closed Mortgage
Open mortgages can be paid off at any time without penalty and are usually negotiated for very short terms. They are suited to homeowners who are planning to sell in the near future or those who want the flexibility to make large, lump-sum payments before maturity. Closed mortgages are commitments for specific terms. If you want to pay off the mortgage balance, you will need to wait until the maturity date or pay a penalty.
If you have additional mortgage questions, most of our local retail centres have great relationships with both banks and mortgage brokers and would be happy to connect you with them to find the right solution for you. Click to find your local Prestige Homes retailer and get started today.